News archive
24.12.17

Merry Christmas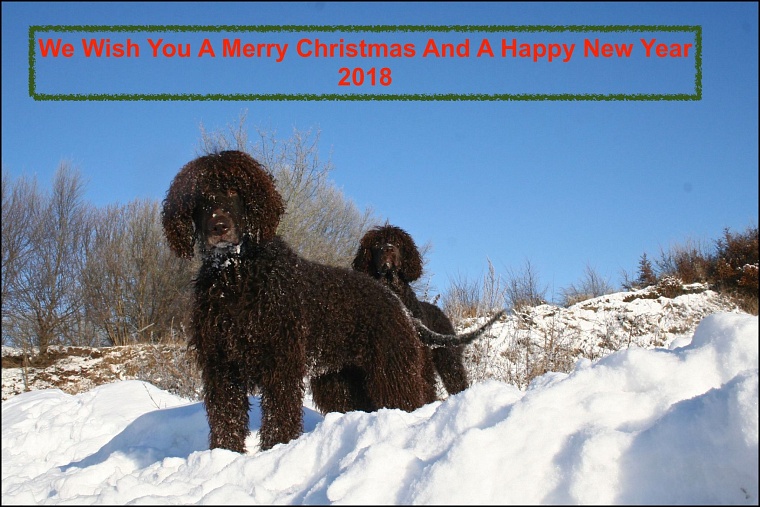 25.09.17

Miss Marple with family
14.09.17

Arriba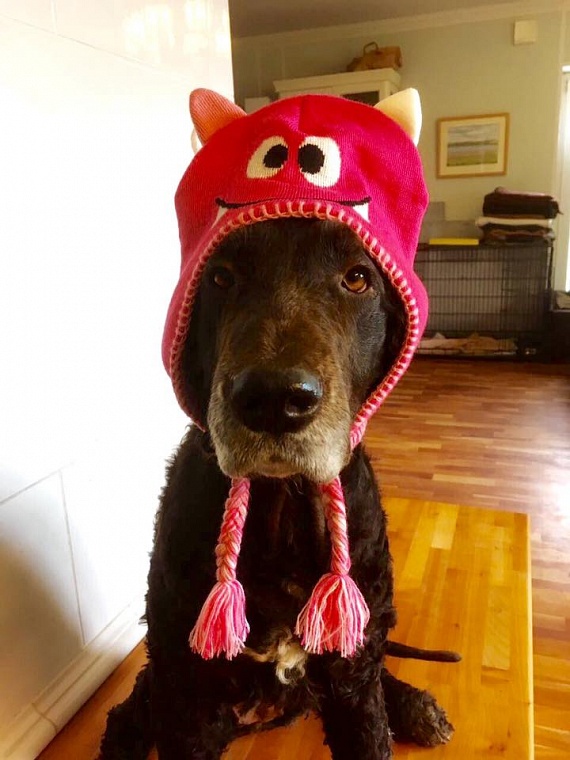 26.08.17

Splieny´s first dummy test

Green Socks Good Thing Going (Splien) and her brother Green Socks Shine Like a Star (Sting) had their debut in early beginners hunting-contests. We entered them in the dummy beginners class at the Hunting Spaniel 110 annual celebration event in Alsfeld, Germany. Both managed the day perfect: were open and friendly to all foreign dogs and handlers, interested in the environment, calm and patience waiting while others were working and eager to work for the dummys, when it was their turn (even there was a "spooky" photographer with a maschine-gun camera sitting in the field ;-)). Very pleased with our little Sweethearts, who did so well at the age of 6 month.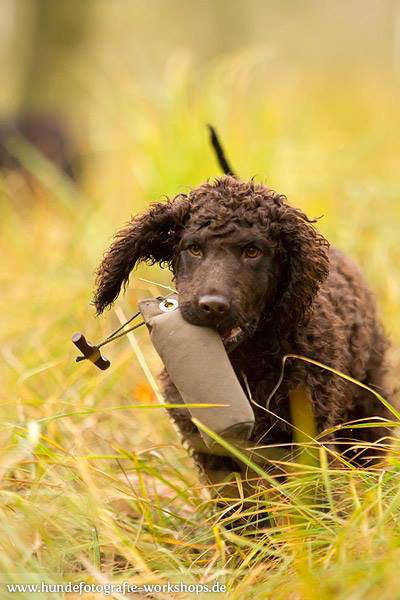 15.06.17

Dwingelandje

In the netherlands her name is Dwingelandje.

This means "in a nice way": terror-dwarf or something similar.

I think that suits her ;-)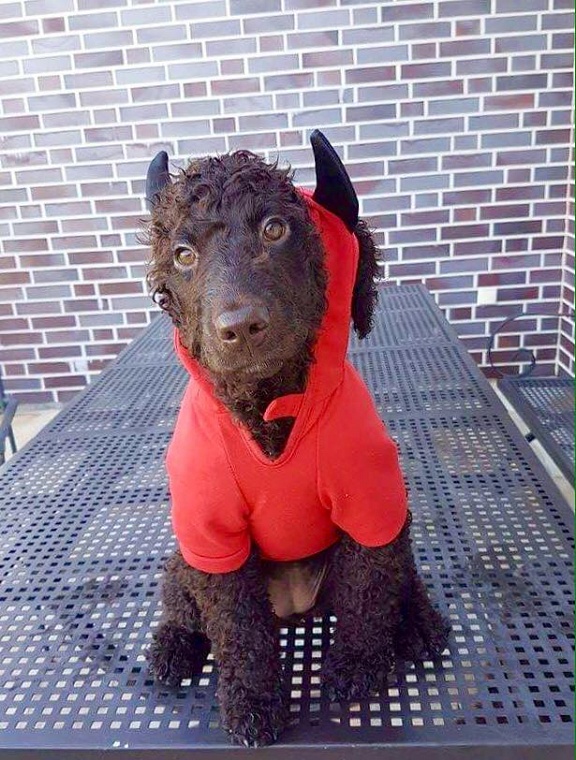 02.06.17

boat trip with the puppies

We had so much fun at our boat trip with the little once. It took only a few moments for them to choose jumping into the water as ist suits a normal IWS ;-)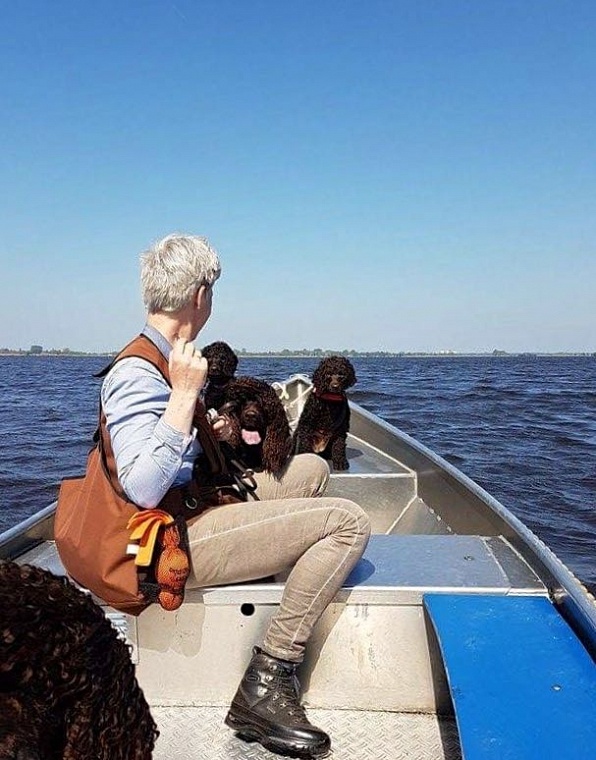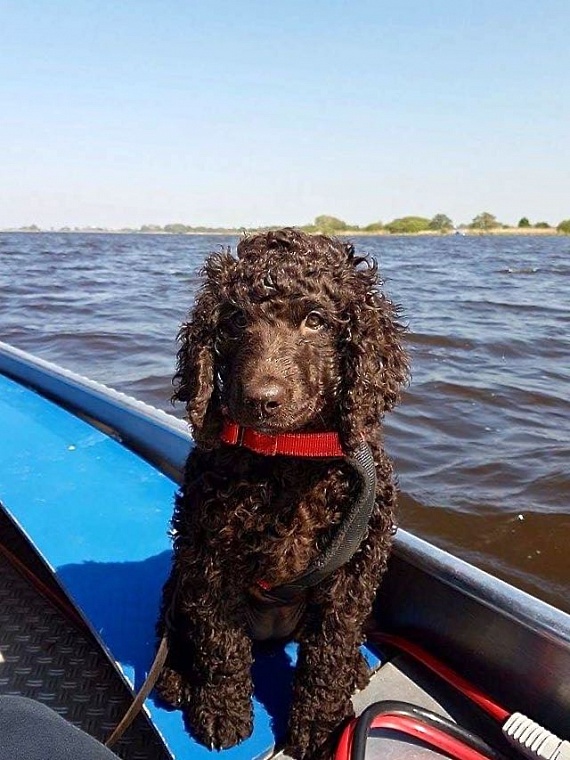 13.05.17

IWS Spezial Klubschau

That was an very unexpected outcome! At the 2017 jubilee clubshow from the netherland IWS community. I had entered Missy in the working class, judge was Judith Carruthers. Renske Flokstra handled her perfectly and she won that class. I was happy and thought: well thats it, lets go out with the puppies and have some fun at the lake. (I am not a show person, i did not remember the procedere). So i took the dogs for a nice walk and swim and when i finally came back to the show ring area, many people were a bit hectic and waving their arms towards me. Also i had have missed some phone calls on my mobile... It turned out, that a dog who wins a class is "not ready" with the show and has to go for further competitions again other bitches. So i shamefully handed my whet dog to Renske and she tried to towell her a bit and in the ring it goes again. There she stood in the middle like a whet poodle with all the beautiful and stylish IWS ... Finally 2 bitches were asked to step away and i was again happy, that "this was it" and we could hide anywere behind a tent. But surprisingly wrong: Here again Missy won the "Best Bitch"!!! After this, she had also to go against the best male IWS (what was her brother Toran). So in the end it turned out, that my beloved Missy won the clubshow with an entry of 25 IWS as BoB/BiS and was awarded different other trophys:
Tulip Memorial (for BoB winner who has won a Field Trial the year before - sponsored by Inge Fischer)
Liquer Flask (for best working dog - sponsored by Martyn Ford Cuboglach)
Killimuk Cup (for BoB winner with entries of more than 10 IWS - sponsored by Ank ter Kuile)
Mopsen plate (for BoB winner with KNVJ hunting diploma - sponsored by Inge Fischer)
IWS plate (for BoB winner - sponsored by Annelies und Michael Roeterdink)
IWS USB stick (sponsored by Annelies und Michael Roeterdink)
Wooden IWS leash holder (sponsered by Clara Hamers)
Silver Bracelett (for best bitch - sponsored by Natalya Gudkova)
And on top the judge Judith Carruthers had brought a beautiful paint from a british artist about marchlands and the geese (love it!).
I was so much not prepared for all what happened at that day and i apologize for letting my dog swim during a dog show, for not beeing proper dressed and not right in time at the ring, for bringing another bitch in heat near the ring (so that distracted the dogs from proper movement) and and and...
I want to thank all the sponsors of the trophys, the sponsors of the club show, the organisation team of the netherlands IWS club, the judge for giving my beloved bitch such a great response at her very last show and last but not least Annelies and Michael Roeterdink for breeding these exceptional dogs!!! THANK YOU ALL
15.04.17

Decision made

May i introduce our new family member:

Green Socks Good Thing Going - Splien

To be honest: she choosed me. Lady Yellow was connected right from the beginning to me an insisted to stay near me all the time.

I could not resist and am more than happy with this sweet little curly
02.04.17

first game contact

We introduced different game to the puppies and checked, how they react to it.

We had duck and pheasant wing, a crow and a little canin.

All did very well and were interested in the game and tried to retrieve it more or less successfully ;-)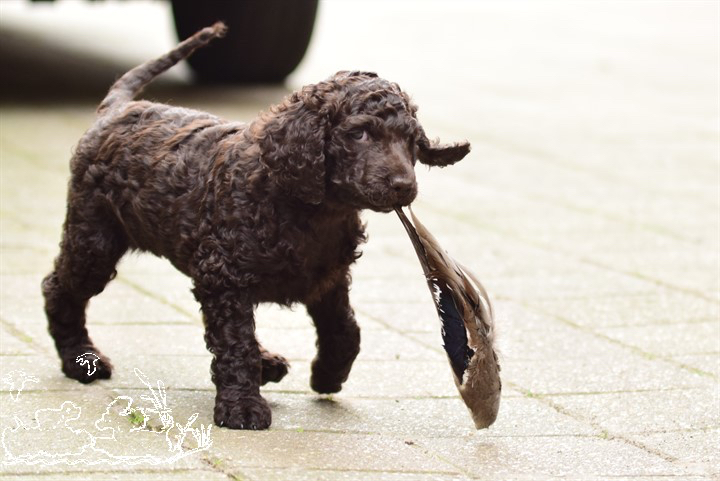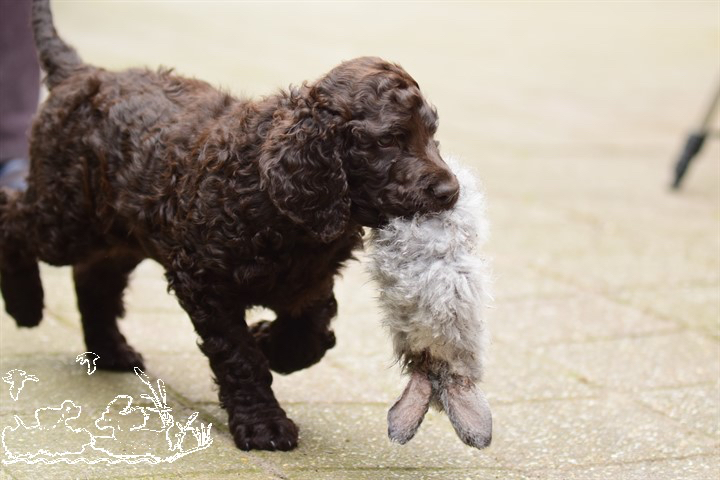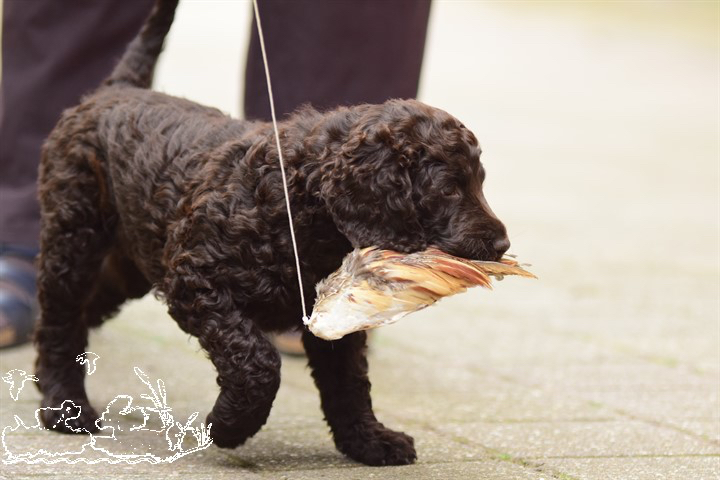 30.03.17

exploring the wood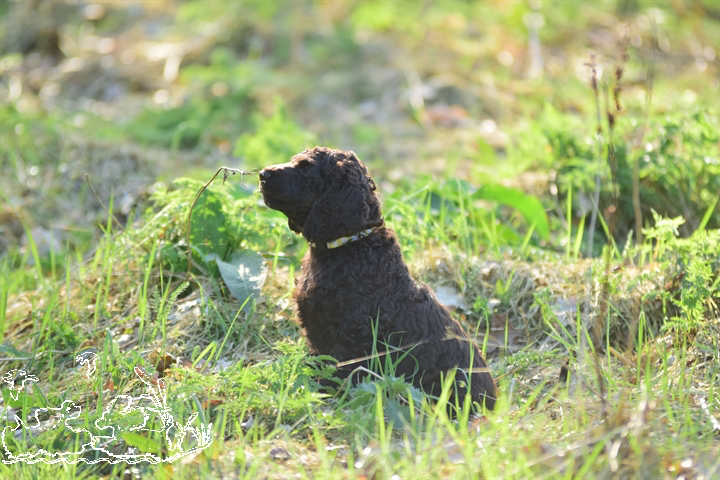 20.03.17

puppies love the water and grow fast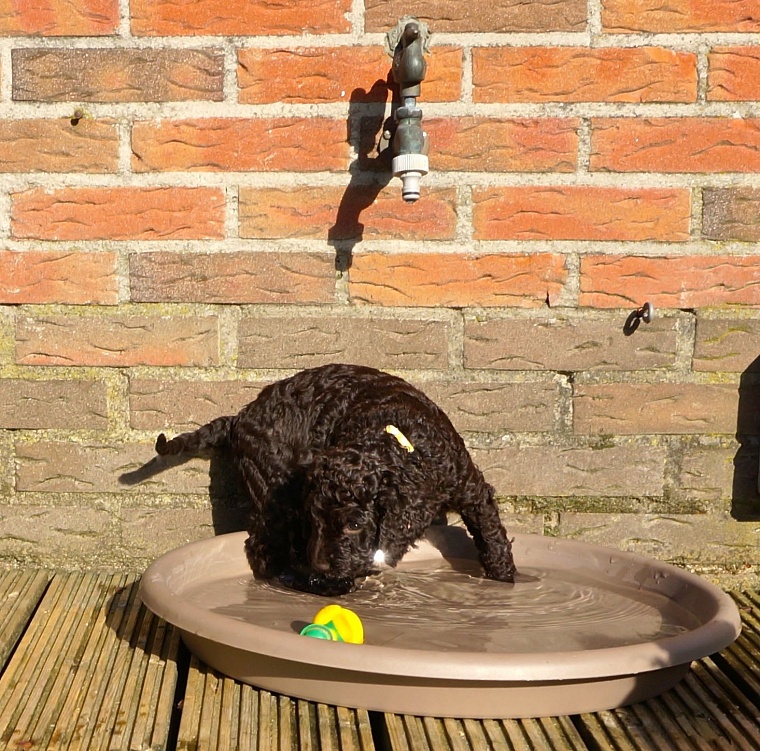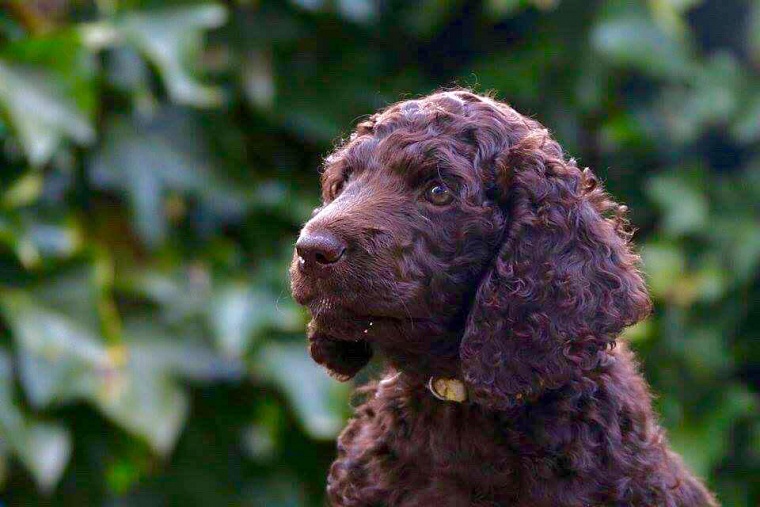 Splien and her brother Sting in the heather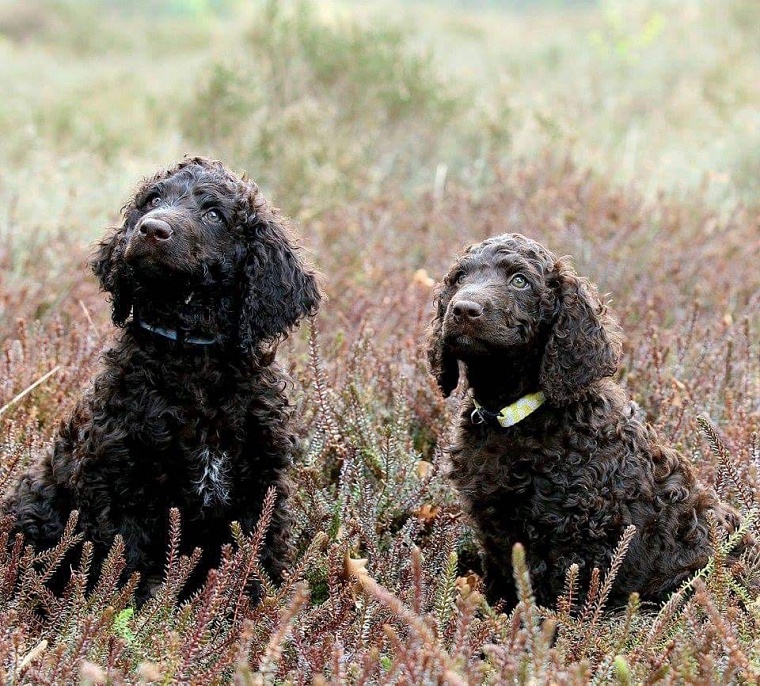 19.03.17

4 weeks old - lady yellow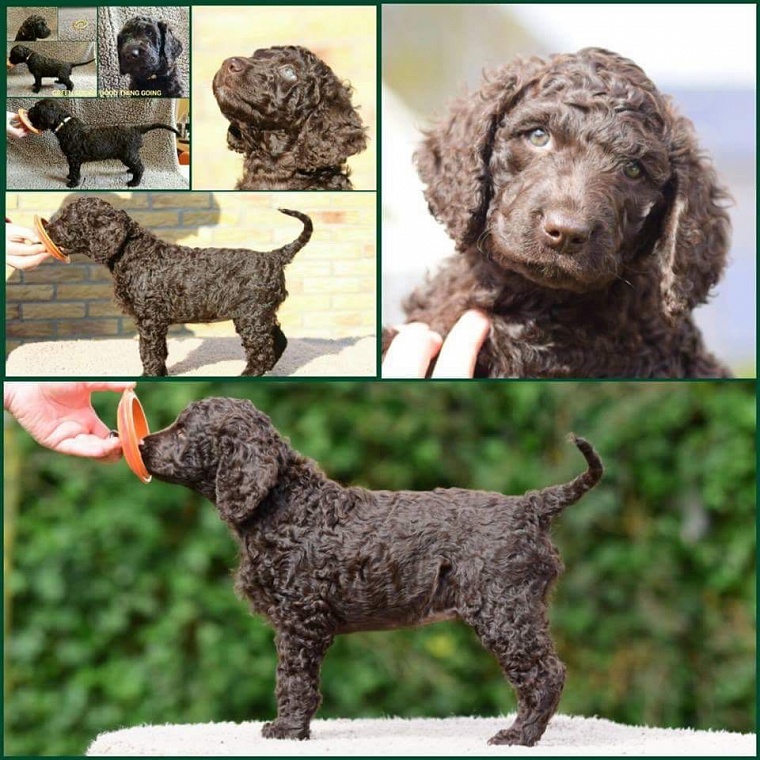 15.03.17

Maureen genes came through

This reminds me so much on the lovely puppy face of grandgrandma Maureen. She was a very special IWS bitch: hunter and personality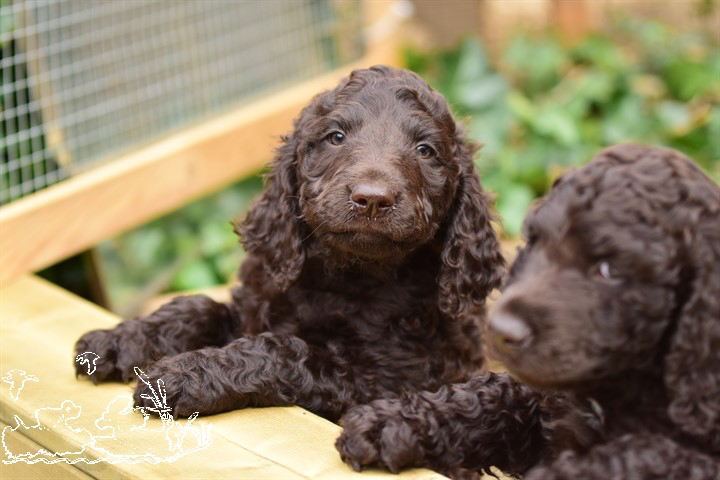 01.03.17

puppy face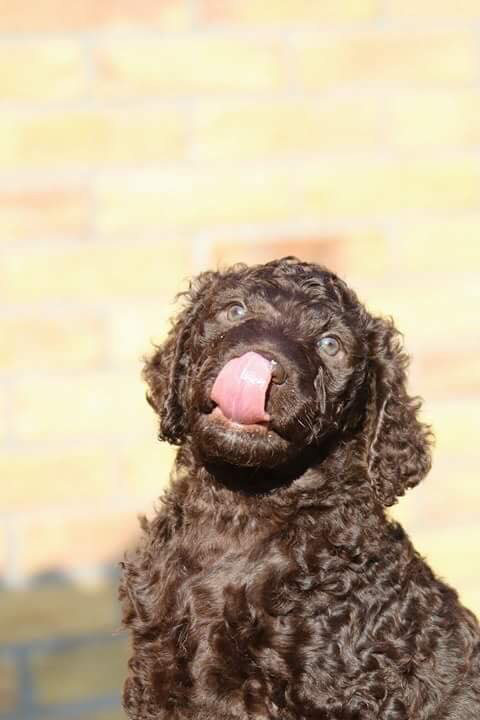 19.02.17

new family member has been born!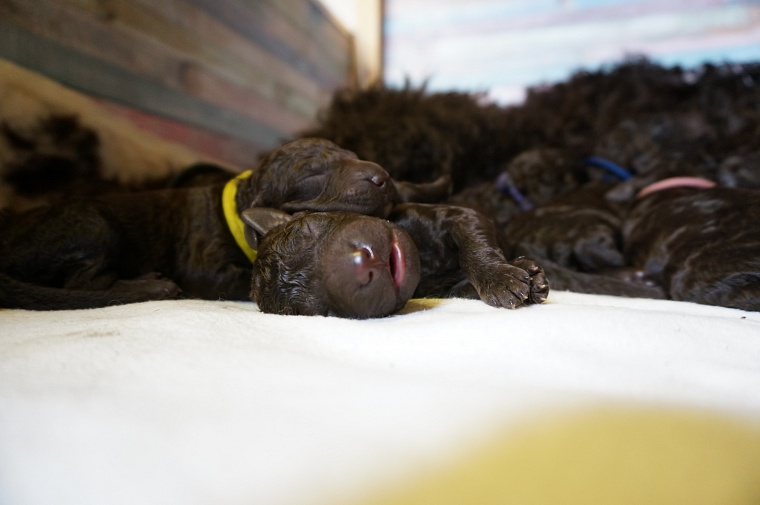 My new puppy has been born.
If you wanna follow the puppies growing, please check the litter blog under:
01.01.17

Happy and peaceful new year 2017