Welcome to our website
about the lovely gundog Irish Water Spaniel
Herzlich Willkommen auf unserer Webseite über die liebenswerte Jagdhunderasse - den Irischen Wasser Spaniel
Wir sprechen Deutsch und Englisch. Wenn Sie Fragen haben, zögern Sie bitte nicht, uns anzurufen. Wir melden uns schnellstmöglich bei Ihnen.
We talk german and english. If you may have any question please dont hesitate to leave us a message and we will come in contact with you as soon as possible.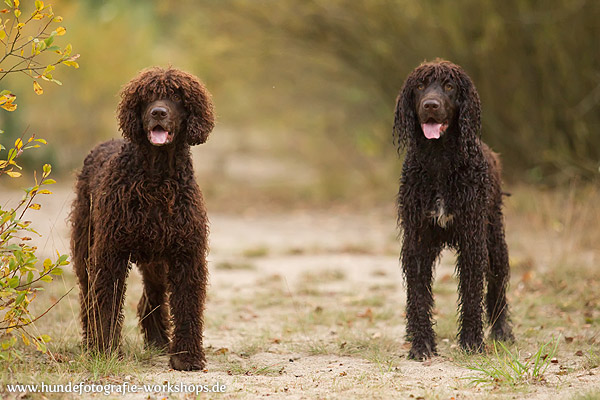 Wir leben mit unseren Hunden in Norddeutschland in einem kleinen Ort mit dem Dosenmoor und Feldern/Wäldern um uns herum und der Ostsee nahebei. Wir bekamen unsere Hündin "Green Socks Ready For Take Off" (besser bekannt unter dem Namen Miss Marple) im Jahre 2008 von den Züchtern Annelies und Michael Roeterdink aus Holland. Miss Marple entwickelte sich in sehr kurzer Zeit zu einer unermüdlichen, fleissigen und allzeit bereiten Arbeiterin, die jede Aufgabe die ihr gestellt wird, versucht zu erfüllen. Sie ist eine liebenswerte, offene und freundliche Hündin mit einem sehr hohen "will to please". Es ist eine Freude sie zu trainieren und sie lernt ausserordentlich schnell und gerne. Sie ist für mich eine unentbehrliche Hilfe bei der Jagd und ich kann mich hundertprozentig auf sie verlassen. In der jagdfreien Zeit halten wir ihren Trainingsstandart mit Dummys auf einem gleich hohen Niveau.
We and our dogs live in the northern part of Germany in a small village near the Dosenmoor, with fields around and the Baltic Sea nearby. We got our companion dog "Green Socks Ready For Take Off", better known as "Miss Marple" in early spring of 2008 from the breeders Annelies and Michael Roeterdink in the Netherlands. Our bitch is a lovely, friendly, outgoing and serious little lady. She is always ready for work, she has a high "will to please" and it is a joy to train her. She is my very helpful hunting companion and in the hunting free period of the year, we keep her education standard with Dummytraining.
Weil unsere Erwartungen an den irischen Wasserspaniel durch Miss Marple übererfüllt wurden und wir begeistert sind von ihrem Wesen und ihrer Arbeitsfreude, haben wir im Jahre 2011 einen Wurf mit ihr gemacht. Aus diesem behielten wir die Hündin "Aurea The Waterspaniel" (genannt: Arriba). Unser Hauptaugenmerk bei der Zucht liegt auf freundlichen, offenen und arbeitsfreudigen Hunden mit einem hohen will to please. Wir züchten unter der Aufsicht und dem Reglement des Jagdspaniel Klub e.V. und damit unter dem Dachverband des VDH/FCI.
Viel Spass beim Stöbern auf unserer Webseite. Wenn Sie Fragen haben, zögern Sie bitte nicht uns zu kontaktieren.
Since we are overwhelmed and surprised about the abilities of the Irish Water Spaniel we bred with Miss Marple in 2011. From this litter we kept the bitch "Aurea The Waterspaniel", called "Arriba". We think it is important having friendly healthy dogs, looking and working well and that's what we are breeding for. We breed under supervision of the Huntingspaniel Club e.V and therefore under the regulations of VDH/FCI. Enjoy the pictures and have fun looking around. If you have any questions, just click on the "contact" button and we will answer you as soon as possible.